Our Flat in Rome
We're on the move again and Rome is at the top of the list. Ideally we would have settled in for a couple of months but after the snow last March and the cold spring in Paris I wasn't too keen to spend a second winter in Europe. Despite my British passport I may finally be becoming an Californian girl. I love the off season in Europe, but I'd like to get some of the good weather too!
However, we couldn't resist a little Roman taster, we'll have three weeks to get our feet wet, see things that have been on our list for ages and discover new neighborhoods.
I love Rome, it has always been my favorite city in Europe and I'm thrilled to have the chance to see more of it. It has a charm and character all of it's own. I didn't visit Rome till I was in my thirties and I was immediately enchanted, returning serval times for increasingly longer stay. The past is so vivid here that it no longer appears to be another country, to paraphrase Hartley.
We've rented a one bedroom apartment on the Via dei Chiavari and I'm very much looking forward to our stay. It's a characterful neighborhood, not far from the Piazza Navona and the Campo die Fiori. Originally we planned to stay a little further out, but with only three weeks we opted for a more central locale. We should be able to walk to lots of places from here.
As you can see below, the apartment is not particularly large but it looks comfortable enough and reasonable bright. When we arrive I'll let you know if it lives up to expectations. As long as they aren't starting on months of general renovations to the building, as they were at the places we rented in the Marais, we should be fine!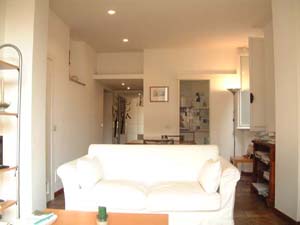 The kitchen is small but looks well equipped. There is a window, though you can't see it from this angle.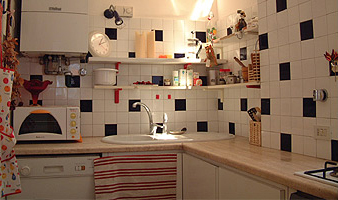 This is the view from the living room...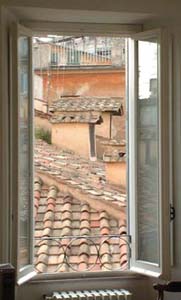 The bedroom looks fairly simple but has another nice view over the rooftops, a lovely wood beamed ceiling, a small desk and king-sized bed. The ensuite bathroom is in the same monochromatic design as the kitchen. Hopefully it's a little larger than our place in the Marais which was tiny.